Requiem Mass for
Tom McManus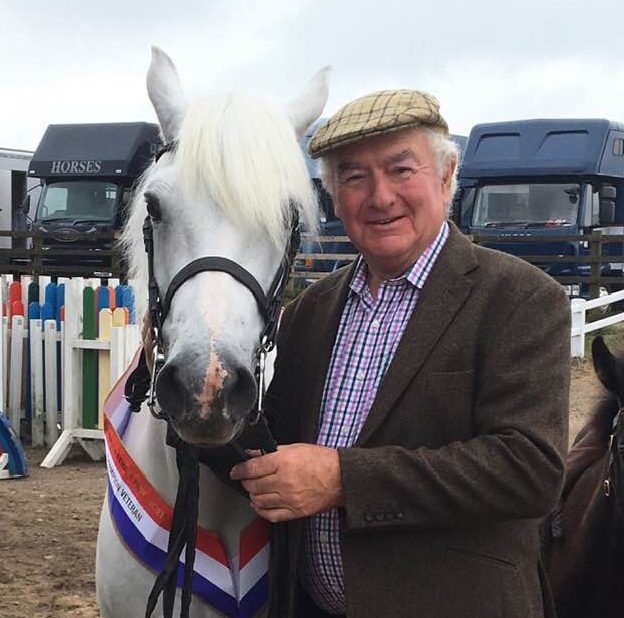 St Joseph's Catholic Church – Wetherby
Friday 21st May at 12:00pm
30 entries.
Sending Geraldine and family lots of love. Very sad to hear of Tom's passing. He was truly a gentleman and no doubt will have a pal in heaven. Best wishes and lots of love, Hazel Sheridan x
To the McManus family on behalf of my wife and I all I can say it is a big loss. I had many a great day / time with Tom, Cheltenham races won't be the same. The service was beautiful and a credit to a great man whom we had a lot of time for. Rest in peace Tom. God bless Patrick & Debra Hourigan
Sending our heartfelt condolences to Geraldine, Victoria and Aiden. We have all, absolutely loved working with Tom over the years. His sense of humour made us laugh and we shall really miss him.
Rest in peace my darling beautiful brother whom I will so sorely miss. Your kindness and goodness knew no bounds. My thoughts are with you dearest Geraldine, Tori and Aidan who planned and organised such a beautiful service very befitting the man that you were. R.I.P. Tom.
A beautiful service. My thoughts and prayers to the McManus family. I was very lucky to grow up with Tom and his family, seeing first hand the trajectory of his star. While we can no longer see it from our vantage point on earth, heaven got a little brighter.
A beautiful service befitting a kind, helpful+True Gentleman May he RIP🙏 Sincere Condolences to Geraldine,Aidan+Victoria May their memories,family+friends be of some comfort to them!God Bless from,Marie Cassidy
Sending my regards to Geraldine and family. A true gentleman who I enjoyed many a days work with in Dublin and an evening pint with.
For a man I have known for near 30 years but saw so infrequently, I feel such great loss, and my thoughts and sympathies are so with you Geraldine, Victoria, Aiden, and family. Tom was a rare breed of the living who really had an influence on me, on all of us: a fair-minded man with integrity; a leader; a laugh; and, a legend. What a beautiful sending off. All of my love to you, Lawrence
Thinking of Geraldine and the McManus Family at this very sad time
The many people, very much including Chris Donelon, who worked with Tom at J F Donelon over the many of the 70s and 80s, will never forget his tremendous combination of sheer hard work and his great sense of humour!
God speed Tom-you were surely one of a kind
Thinking of you all today.
Fond memories of Tom, Geraldine,Aidan and Victoria when we all spent time with Mary and Denis Mcloughlin (Rip) and family, great times. Deepest sympathy to all, and rest in peace Tom. Take care, Hannah and the Galvin family 💕☘️💕
What a beautiful service befitting a beautiful man inside and out. What a heart warming genuine and caring couple you were.
Well done to all readers especially Madelaine and Connie for being so lovely and brave and to Victoria for having the courage to talk so eloquently of the father she and Aiden so obviously adored. Last but not least Geraldine for the effort put into Tom's funeral and making it so personal and wonderful. The Irish music was so refreshing and bright and your man would have loved it. God Bless you Geraldine in the weeks ahead when your loss will leave a void in your life which knowing you, you will fill with things to help others as you have already done over the years. You complimented Tom in the very best of ways. Always here for you and love always Sandra xx
A lovely service and tribute to celebrate the life of a great man. Thoughts and prayers go out to all of the family during this difficult time.
A mountain of a man with a huge heart who touched the lives of so many, a true inspiration. Rest in peace Tom.
A lovely service ,befitting of a wonderfull Man .
Tom made time for everybody and it was a pleasure
to find yourself in his company and listen to those
graet tales he would tell .
May he rest in peace .
Amen .
We send our deepest sympathy to u Geraldine and family in Tom s death may he RIP .Tom was always a true and caring friend to us while we lived in Leeds
We tuned into his Mass today what a lovely homily and urology . We really enjoyed the lovely singing and musiRest in peace Tommxx
Dear Geraldine, Victoria and Aidan,
Our deepest sympathies on Toms passing.
The funeral service was really lovely
May he rest in peace

Love from
Mark, June & Eamon Sexton
Corp an duine uasail a bhí ann, go ndéana Dia a mhaith air.
Thank you, Tom. Although I only met you a handful of times, I feel privileged that I did. If only there were more like you. Kind, generous, warm, full of smiles, stories and fun, so wise and knowledgeable and yet so humble. Thoughts and condolences to Geraldine, Victoria, Aiden, Connie, Tom, Maddie and Dan. With our love and blessings, Ollie & Lucinda
Thinking of Tom & all of you & sending all our love. ❤️
To Geraldine, Victoria, Aiden and family Sincere condolences for the loss of Tom, may he rest in peace.
Brian & Connie McGuire
I will never forget the warmth, love, and support of the McManus family. The same warmth Vics and Aidan have, were taught and modeled by their beautiful parents. God speed Tom. You will be missed.
My thoughts and prayers are with Geraldine, Tori, Aiden and all the family and Tom's wide circle of friends. What a gorgeous, kind, thoughtful, caring and fun man. It was always a pleasure to meet him and it was a privilege to have known one of life's gentle gentlemen. God speed Tom, coladh samh. Sending love from Ireland.
Some of my most cherished memories are with the Barrowby ponies & thanks to Tom. His joyful, generous & kind character will be very much missed by so many. All my love to Geraldine, Tori & Aidan.
Geraldine & Family we're thinking of you today! Tom was the most lovely gentleman will be very much missed. Heartbroken for you all, Lots of love Lauren & Martin xxx
Thank you Tom. You were a kind, generous and thoughtful man. Rest in peace.
A big man with a big smile. Rest in Peace.
Our thoughts are with the McManus Family.

Ruth and Tonyx
Geraldine Tori & Aiden. We are so sorry for your loss. There are no words I can think of to ease the pain you are all going through. Tom has had such an impact on not only us but everyone who ever had the pleasure of meeting him. It was an honour to know Tom and we loved his company. There was never a dull moment when Tom was with us.
Love to you all.
Sincere condolences today and our thoughts are with you all today, Tom was a lovely man. Many fond memories. Mary & John, Johnny & Olga, Michael & Jacqui & Tara. X
Geraldine Tori and Aidan my deepest condolences for the loss of Uncle Tom May he rest in peace 😪
Sending our sincerest condolences. We only met Tom once when we bought a pony from him. He was so kind and knowledgeable as were his family. May happier memories help you all at this time. Barrowby Stud is a fine tribute to him.
These links open in a new page