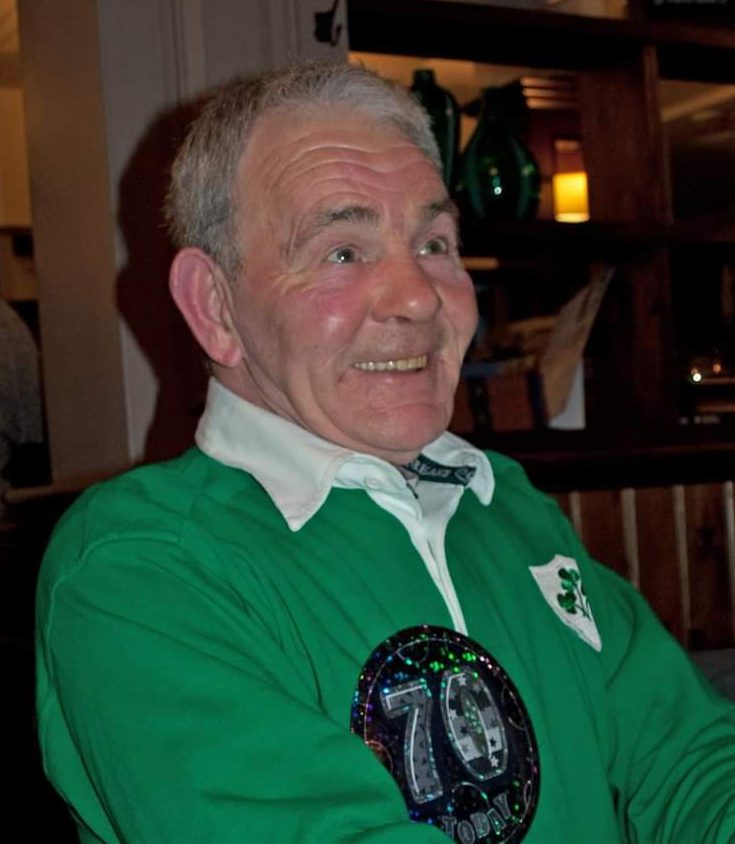 Requiem Mass in Celebration and
Thanksgiving to God for the Life of
The Immaculate Heart of Mary Catholic Church – Leeds
Tuesday 11th May at 12:30pm
The live stream has now been replaced with an archived recording of the service.
57 entries.
St Gemmas have received £350 in donations in Michael's name. Thank you.
Deepest sympathy to you all the Tierney family on Michael's passing from the all McLouhlins
May he rest in peace.
Thanks Mike. For the small share I've had in your wonderful life, for the trust you placed in me when I asked for your daughter Angela's hand and the years of happiness within your family that has brought me. For the countless hours of joy and fun you gave to our boys and all their cousins (my favourite being the plastic sheeting water slides). Thanks for the patios you built us, the walls taken down, the walls, doorways, stairways and bathrooms built and the many many hours helping, advising and teaching me. Mike, it's been a privilege and an honour to be your son in law and I'm so thankful for every minute spent with you. Good night and God bless.
We had many happy memories of Dad and his exploits.
Early childhood memories are of trips to Ireland every summer and visits to Grandmas, with chickens housed in a VW beetle, visits to the bog, picking wild mushrooms and cooking them on the range, and trips to find ice cream sandwiches and Tayto crisps.
Closer to home there were regular trips to Otley Chevin and Bolton Abbey. We all loved Dad throwing us into an inflatable dingy and sending us down the rapids, special memories.
Dad never complained about endless hours driving Angela and me around the country to dance competitions in his cherished blue Leland van kitted out with a mattress in the back our makeshift seat. I'm sure the health and safety police would have something to say about that these days.
And when Dad got late night calls to pick us up from some pub it other he never complained well not to us!.
As we were growing up and when grandchildren were on the scene, Dad would spend all his time playing with them this included giving rides in the wheelbarrow and playing tigers. Always the cheeky chap, Dad would get involved in all sorts of games, cards being his favourite but his competitive streak meant that he wanted to win, Dad enjoyed a cheat or two but he never got away with it his cheeky smile gave him away every time.
Dad was known for his sweet tooth which probably accounts for his liking if marmalade sandwiches. Every day Dad took marmalade sandwiches to work, we would all be waiting for Dad to come home and fight for any leftover sandwiches. Dad tried to pass on his sweet tooth to the rest of us and would regularly offer us the sugar bowl to dip our finger in, obviously out of sight of Mum.
A vivid memory we all share of our time at Oakwood Lane was Dad chasing thieves that had stolen clothes off our washing line. Dad didn't catch them, but a few days later someone was spotted wearing a pair of Michael's trousers and we all chased him!.
Dad loved a flutter in the horses when he got back from the bookies we would ask what horse he was going to bet on, as that was the one that would have won, not the one he actually backed.
Dad you made us all cry with laughter when you did have a few drinks and your Dad dancing kicked in, I don't think I got my dancing skills from you.
Dad was adored by Mum his five children,grandkids and great grandchildren.
You gave us your everything Dad I hope we will make you proud every day. Dad we will look after Mum.
We love you more than you ever knew Sleep tight Dad until we meet again.
💔💔💔❤️❤️❤️❤️
Mike, no doubt you will be missed by all your friends and family. You were a gentle soul and always happy and smiling. Kathleen we are thinking of you and your family at this difficult time! Mike would be so proud of you all for giving him a lovely farewell xx
Mike,A lovely man, always made us so welcome when we visited, Rest in peace sir
Written by Angela
My dad, our dad, grandad
Husband, great man, great grandad.
He helped make me who I am
He helped to make you, you.

My dad, our dad, grandad
Builder, plumber, electrician,
With No training, just his love and skill
Hard worker and never a sherker.

My dad, our dad, grandad
My memories will never fade
On my wedding day you made
The first compliment you did me pay

My dad, our dad, grandad
We are here to say good bye for now
But we will try not to be blue
one day hopefully we will be back with you.


My dad, our dad, grandad
I will look for you in rainbows
At both ends I will check
For my little Irish dad, my little man of gold.

My dad, our dad, grandad
No more worry, confusion or pain
But it's time for you to go.
We love you and we'll miss you.
My dad, our dad, grandad.
Deepest sympathy to you all on Michael's passing. May he rest in peace.
What can I say other than I will miss my grandad you and grandma have always been there when I needed you, I could always talk to you and you never judged I wish I could have been there to wish you well when you left but you will always live on in my memories of you love you loads grandad xxx
Beautiful mass you gave Mike the send off he truly deserved. He would be very proud of all of you. Rest in peace Mike
A great neighbour is a precious gift and that's what we inherited back in 2004. The last time we saw you in fine fettle was at our leaving party in 2016 and we are grateful for the memory and so sorry that you fell ill so soon thereafter. We shared a house proud nature and you spent at least as much time as us outside pottering round our homes and gardens and it was always nice to shout greetings over the fence. Thanks for sorting out my roofer when he tried cutting corners on my garage roof!! Rest assured we will always be here for Kate. Rest in peace love Lynn and Damian x
Rest in peace Mike a true gentleman
Love to you all on this very sad day.

R.I.P Michael 💙 xx
Mike, the quiet man, much loved by everyone. We will raise a glass for you today and share some happy memories together as we reminisce. With much love to you all from all us of in Whitley Bay. Love Albert, Mary and Sarah xxx
RIP Grandad. You will be missed by so many but I hope you are now at peace. I have the best memories growing up and playing with you. I am lucky enough to have had my own sons meet you. I love you and will miss you lots xx
Sending love to all the Tierney family, you are all in our thoughts. Such a quiet man who always had a smile on his face 💙. Love the Kosciak family xxx
Johnny stella and family
Sad day to day saying goodbye to my lovely gentleman brother micheal
It only feels yesterday we were playing around rosmult how time flies so sad
Condolence to catlin and family
Rip Michael
Mike, you was a true gentlemen. I was honoured to have met you - you was the Grandad that everyone wanted - you was never short of energy to play in the garden! Your spirit will live forever in the boys. You are at rest now, the sky has definitely gained a special star to shine on the boys forever. Sleep tight Mike 🧡🤍💚
In loving memories of Michael.. Great memories of your trips to Ireland, sadly missed by all your family... Sorry we can't be there to say our last good-byes.. Deepest sympathies to Kathleen and all the family.
Dear Kathleen and Family,
Greetings from across the pond.
Tara let us know of Mike's passing. We send our condolences along with love and prayers to you and the children. Take care of one another and may God Bless you all.
Sincerely,
Maureen and Bob
I have wonderful memories of Uncle Mike from our visits to Ireland and England and they all include laughing and being made to feel welcome. Love from Colorado to Auntie Kathleen and all our cousins and family.
Deepest sympathies to Kathleen and family on Michael's passing. Fond memories of all the visits to Ireland and having my godfather there for our wedding. Wish we could be there tomorrow to celebrate your life. RIP Mike
Grandad, I don't think anyone could ever set the bar higher in being the most selfless, kind and caring role model to every single one of us.
I've nothing but joyful memories, be it playing for hours up and down the garden or bravely hiding under your shirt at Disney Land. There were never any questions asked you were always there to pick me back up. I loved you and I miss you and no one will ever do the three bears better. xx
Would love to be with you all tomorrow to celebrate Mike's life. He will be sadly missed by everyone. Rest in peace Mike.
You will be deeply missed grandad. I will always remember your cheeky smile and your energy - the hours you would spending either pushing us on the swing, playing tag or pulling us up and down the hill in your garden. I have many happy memories with you and I have heard many wonderful stories about you from my dad and other family members. A true gentleman through and through. You will be forever loved by us all. Rest in peace, grandad. Love Alanna xx
RIP Michael and condolences to Kathleen and family.
Well grandad what can I say, I have nothing but amazing memories with you and I'll forever carry them with me. When I think of you I'll only smile coz what I can see is that cheeky smile and hear that laugh when youd pinch our chocolate. You've always been there for everyone, I'll never forget you grandad I miss you so much what I'd give for one more cuddle, but now your at peace and heavens gained such a gentle angel xx
Our lovely friend Mike, you always made us so welcome when we came to stay, sorry I cannot be there for your funeral and my lovely friend Cate, will be thinking of you , R.I.P xx
Mike u always made it to all the weddings and funerals now we cannot be there to say thank u and goodbye we shall miss your trips to ireland and the cuppa in hayes hotel
Rest in peace big brother
Grandad we'll all miss you and your cheeky ways. No more will we have to worry about where you've hidden phone,keys or whatever else you could get your hands on, the games of hot hand's will never be the same. We'll all miss you but take you with us forever and keep you close.
DEEPEST sympathy to Kathleen and all the Tierney family on the passing of Michael R.I.P. Michael whenever ye came home to Ireland on holidays ye always came to visit us in Castlehill. We looked forward to those visits so much.The quiet man we called you.Wish we could be there with ye on Tuesday.You will be sadly missed but your memories will live on.Rest in peace dear brother and brother in law xx.
Deepest sympathies to the Tierney family on the passing of Michael a deeply missed brother in law from all here in Ballintemple Co Tipperary RIP Anne and Richie
Dad you leave us for now time to rest, you fought so hard for so long, did anyone expect anything less.
I have so many memories you always made time for us, nothing was ever too much. You gave us the most valuable thing anyone could give, your time.
As we grew up and had our own kids you spent your time spoiling them, they loved to come over and they all love you.
You and Mum were an example to us all, hard working, unselfish and understanding. We are who we are because if you.
Bye for now Dad I know you are looking down on us, looking out for us. You will be greatly missed love you.
Xxxxxxxxxx
Mike - I will always be grateful for the way you and Kate welcomed me into the Tierney family. I'll remember your cheeky smile and that glint in your eye. And who could forget your Irish jig late one night at a French village fete - what a night that was. But more than anything I will remember you as a devoted family man. You will be sadly missed but your legacy will live on. RIP. Ian.
Rest in peace Grandad
I'll always remember the play fights and Christmas Day nerf gun battles and the little girlie scream you make when you were pretending to be shot. I'm going to miss seeing that cheeky grin before pushing me down the water slide in the back garden. There's just so many wonderful memories!
I love and miss you so much grandad 💖🇮🇪
Will always have fond memories of uncle Michael and Kathleen coming home for a visit,really wish we could have got one more in xx
I will always remember you as dads even quieter, gentle big brother, really wish we could be there.
Rest in peace Michael
Marguerite
DAD - A family man through and through, devoted husband, father, grandad and great grandad. Respected and loved by all his siblings, in-laws, extended family and all who knew him.
Memories of waiting for him to return from work and him sharing his pack up of marmalade sandwiches.
Memories of him taking me to work with him when I was young, no job was too big for him. Such a small man but strong as an Ox.
Memories of him strutting his dance moves at family events looking like Fred Astaire.
Memories of him never failing to phone me in my difficult times, checking I was ok, listening and showing he cared.
Memories of in his retirement years believing he was the local neighbourhood watch traffic warden and letting offenders know exactly what he thought.
Memories of his strength and stubbornness, so sad he has gone though pleased he didn't have to live another day the shell of the man he had become.
DAD - What a fighter to the end! Now at peace, Love you always, God Bless xxx Anthony
Gone Mike But not forgotten RIP.
The blocks are still waiting to be split Mike, the dogs need walking and we are STILL waiting for you to make us all a cuppa!! God bless Mike, at this stage we could see you sooner rather than later!! Bye for now Mike. ****
I have so many amazing memories with Grandad. He always had time to play with us or take us on adventure walks. We always loved going to see grandad to play tigers, it was the most fun and he gave us all his energy chasing us around as we screamed with laughter. He was the most beautiful kind soul and I am going to miss him so much ♥️💛
Heaven has gained the most caring and special Grandad. Memories of you grandad are full of fun laughter and tigers. You took me to Ireland your favourite place I loved that time spent with you and grandma I remember you saving me after falling into nettles convincing me it didn't hurt with a dock leaf 🍃 . The times we spent playing bingo and cards you always tried to cheat but failed that cheeky smile gave you away every time. You will always be in my heart and your memories will be with me forever Sleep tight grandad love always Ella Rose 🌹💔💔💔❤️❤️❤️
Very sorry to hear about Uncle Michael. I remember you as a kind, gentle man. I hope you have reunited with my Mum, Aunt Essie, Aunt Nora, Aunt Birdie and Granny and Grandad.
RIP
Condolences to Kathleen and the family
Some boys watch super heroes movies I never did because my hero lived with me, your super power was selflessness you put everyone before yourself. When you would come home from work tied and filthy you never said no to playing football in the garden or should I say kicking me around the garden 😂 I could go on for ever of the good times because my life has been full of them because of you and mum. Part of me is broken and time cant heal that but I will do everything possible to make you proud and teach my boys the valuable lessons you thought me. Love you dad until we meet again 🇮🇪🇮🇪❤❤❤
Mike it was a pleasure to know you, a true gentleman who would do anything to help anyone. Heaven certainly has gained an Angel.Sleep tight & rest in peace.
Grandad I am missing you so much a wheel barrow or tractor ride will never be the same again. I will continue to make you proud and I know you will be watching me play rugby and football from the sky and probably arguing with anyone up there who you don't agree with 🏉⚽️🏉 RIP Grandad love your 💔 grandson
Cavan X💙X
The first time I met you mike giving me a lift home I couldn't understand a word you said to me I just answered yes to everything you asked me and I still couldn't understand you 20 years later but what a fantastic man always put other people first you would go out of your way to help anyone!! You will be sadly missed but never forgotten sleep tight
Michael, god has took an angel back
Good night,God bless and rest in peace
"Where's Grandad gone?" Is what I ask , as I really don't understand. I am told your in the sky, I will look for you in the stars.... keep watching over me Grandad 💙 although I have never experienced you like my brothers did I still felt your love for me💙
Love from your youngest grandson Conlan Michael Tierney xxx
Grandad, where do I start with you , you was my rock my number 1 fan and you will never be forgotten. Your arms where always open for anyone who needed you [even tho your hands where the coldest hands of anyone I have ever met]I will do my best to make you proud grandad , rest in paradise my angel ❤️🕊
My grandad and my best friend all in one no words can describe how much you made me laugh grandad so caring and loving to everyone heaven has gained an angle hope your flying high with the angles , Night grandad
To the best father in law a girl could wish for ❤️ 🇮🇪 I could not of wished for a better Grandad to our 4 boys 💙💙💙💙 they absolutely worshiped you and we all know how much you adored your grandchildren "Jack" your fight and determination in the last 3 years has been amazing and you certainly didn't give up without a fight! Our love for you will never end and there will always be a missing part in our lives now your gone 💔 Keep watching over us Mike and rest in eternal piece.... so many lovely memories to keep us going!! All my love forever and always Your daughter in law Kerry 🇮🇪❤️🇮🇪❤️🇮🇪
I love you grandad and hope you are at peace, heaven has gained the most beautiful soul! Sebastian is your double and reminds us of you daily with his cheeky grin. We have already started playing tigers with him and he screeches already, takes me back to our childhood with yoi 💛💚🧡

Love you forever Grandad, miss you more than I thought possible ❤️
My Dad my rock, and the best grandad. Dad the sky has the brightest most beautiful star forever . I will always love you more than you know I hope we are making you proud every day, you are my inspiration. We will look after mum and I will join you one day to have the shindig you deserve. Your loving daughter Suzanne ❤️❤️❤️❤️💔💔💔
Such a quiet caring man, you will be sadly missed 💔
So Sorry I can't be there, Happy memories. We will meet again Sister Kitt and Laurence
Where have all those years gone!
Ups and down we had a few,
56 years how did we get this far?
We came to England with nothing, and built a good life.
5 kids, 16 grand kids and 8 great grand kids, we did something right.
Devoted, husband, father and grandfather.
Sadly missed.
These links open in a new page