Requiem Mass

for the repose of the soul of


David Maxwell Barchard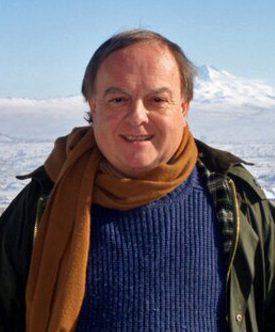 St Mary's Church – Nun Monkton
Tuesday 12th January 2021 at 11:00am
The live stream has ended and has now been replaced with an extended recording of the service including the committal.
Family
David was the eldest of four children (David, Sue, Tish and Michael) of John and Dorothy and we had the great good fortune to spend our early years in rural Lancashire where we were free to roam as long as the day was long. David had a very strong sense of family and took his duties as older brother very seriously, sometimes too seriously for his siblings who were expected to tow the line! He would invent games for us to play in the woods and even a language to speak but he also got us into trouble. Sometimes he would deliberately make us miss the school bus but, unfortunately, our Mother was not fooled and made us walk the four miles to our primary school! Sue found primary school to be less easy when he was no longer sitting next to her doing all her work! Only recently he gave short tutorials to some of his great nieces and nephews on the history he was compiling of the Barchard's.
He attended the village school in Lancashire before going to Saint Mary's Hall, the prep school for Stonyhurst College, as a boarder, and then winning a scholarship to Stonyhurst. This was followed by a scholarship to St John's College, Oxford.
The family moved to Yorkshire in the early 1960s and David promptly took that county into his heart, his love of history being nourished by the plethora of ruined abbeys and priories. Although he spent many years living in Turkey (his country of adoption) and where he infinitely preferred the climate over that of Nun Monkton, it was always to Yorkshire and Nun Monkton that he returned. He was fiercely protective of the village and served as Councillor and Chairman of the Parish Council, as had his father before him.
We have received so many tributes to David from all over the world and we are eternally grateful for these. The recurring theme of all of them are his great intellect and erudition, integrity, loyalty, kindness, generosity and, above all, humility which is testified to by the fact that we, his family, had little idea of the extent of the enormous esteem in which he was held by so many from all walks of life.
It was his wish to join his parents and younger brother Michael in the Nun Monkton burial ground where he had the foresight to buy several plots many years ago in order to ensure that the family remained together. His sisters, brother-in-law, nieces and nephews and great nieces and nephews will sorely miss him, as will his many friends throughout the world.
School and University
David and I entered Lower Grammar at Stonyhurst 60 years ago this year, and we were also at the same Oxford college, so we go back a long way; since then our contact has been more sporadic, but with his discovery of e-mail (ahead of most of us, I fancy) the pace undeniably quickened. One of the features of his character that has emerged in the flood of comments provoked by his death has been his utter integrity; if a thing was wrong, then he said so; and sometimes that could be uncomfortable, but I recall that I was very grateful for the (not uncritical) advice he gave me both when coming for interview at St John's College and the next year when I entered the College. Another of our contemporaries at Stonyhurst and Oxford, Stephen McCarthy, remembers how he and David, on a "gap term" out of school before coming up to Oxford, 1965; and started with a job in a youth hostel. David, however, decided that they were being exploited, so Steve found himself walking out of the job and hitching down the Rhine, where they got a better-paid post washing-up in a hotel. He also remembers how even then David was talking about Byzantine history and culture – "the whole time", the first adumbration of the career that he has graced ever since. It was also a great joy, both at the time, and even more so with hindsight, that so many of us from that year of 1960 were all together in a Zoom conversation just four days before his untimely death. David was on good form, arguing, among other things, over whether Dostoevsky or Tolstoy was the better writer. David was deeply religious, though not in any narrow way; and his ecumenical heart must be gladdened that his requiem mass is taking place here in this Anglican church where he so often attended services, as I recall he regularly did, 50 years ago at St John's when he was an undergraduate. May his great soul rest in peace.
Nicholas King, SJ
Career and Turkey
Before the days of the internet, the Foreign Correspondent was a figure of awe. The FT's David Barchard was one such towering presence. But when my wife and I first bumped into him by accident at Istanbul's Atatürk Airport, we were amazed that the man we knew from his formidable byline was a small, affable chap in a cap. That was 40 years ago, and David became a friend for life, as he did with countless people, many of whom he met by chance.
The story goes that David was led to Turkey by Rose Macaulay's classic The Towers of Trebizond, and it was not so far from Trebizond – or Trabzon as it is now known – that he first came to understand the country. He went to teach in the coal-mining port of Zonguldak on the Black Sea as a young Oxford graduate in 1969, and the friendships he struck up there lasted a lifetime. Half a century later, the sister of one pupil recalled his delight when her mother baked him a cake.
When David returned to Turkey in the 70s he had switched from academia to journalism and settled in Ankara as a correspondent for the Financial Times . He remained an Ankara man through and through, much to the bemusement of his friends in Istanbul. From being a country with few imports, constant power cuts and an impossible telephone service in the 1970s, Turkey emerged as an economic free-for-all in decades to come. David was one of the few commentators who understood the political currents driving this transformation. His firsthand experience, contacts and wide reading placed him head and shoulders above his fellows. And he could sit down at the telex and file a 3,000-word report, all without notes.
David was honest and fearless, whether speaking out against social injustice, reprimanding 'spineless academics' (almost as risky), or defending his adopted country. He was never afraid to call a spade a spade (often that spade was a Greek or, in recent months, Mr Macron meddling in the Med). On one thing everyone is agreed: he did not suffer fools.
He opened up a whole new world through his articles and lectures. As the FT's Richard Cowper writes, ' he was truly a legend in his lifetime'. A respected historian, marshalling facts on an encyclopedic scale, he was also a born narrator, writing as he spoke, conveying historical drama with effortless lucidity. His lectures were proverbial, delivered at an urgent pace "without deviation or hesitation", and again without any notes.
If there was one place to rival Nun Monkton in his heart, it was Uçhisar (pronounced Ooch-hiss-ar) in Cappadocia. An old friend lent him a cave house there and he spent his last years in Turkey gazing over the other-worldly landscape as he tapped away in the company of a beloved cat. He was one of nature's great conversationalists, and on freezing winter evenings he would climb the icy lane up the hill to dine with friends in front of a roaring log fire at the Elai Restaurant.
David never forgot his friends or the places he loved. When he was out on his walks in Nun Monkton he often shared photos of the Ouse and the Yorkshire countryside with far-flung friends. It is fitting that he is being laid to rest at St Mary's with its Burne-Jones windows of which he was so proud. I speak for many when I say that Nun Monkton will remain a place to visit for those who want to remember him.
He is already sorely missed.
John Scott, Editor, Cornucopia Magazine
24 entries.
It was shocking to learn the news just after the Christmas through our common friend of ours.

David and I had never chance meet in person. We were introduced to each other through a common friend in London and exchanged so many whatapps messages on history, politics, and of course Turkey during the last couple of years.

One of your last messages was to hope that we would be able to meet finally in 2021. Unfortunately this will not happen but I will always remember you as a good friend of my native Turkey, fellow Reformer and as a great intellect. I wish I could take the journey up to North to meet you in person at one weekend.
The first time I met David was with Murad Sunalp in London. His generosity and friendship that will be remembered lifetime.
Condolences to his family and friends.
Rest in peace, dear David!
It is very saddening that David passed away quite unexpectedly. He was doing all the right things in recent years for his health as most of you may be aware of.

I met David in the late 1990s on the campus of Bilkent University in Ankara through Prof. Norman Stone. Quite often we would end up having dinner and enjoying a few drinks at Bilkent Uptown Bistro, where faculty members, graduate students and their guests mingled. For all of us, the world was a better place back then!

Once Bilkent campus became rather dull in the late 2000s, David made a move to Cappadocia at some point. (Norman relocated to İstanbul.) In a few years, I also ended up in the Cappadocia region. David and I often met for dinner and drinks in Göreme with great conversation on Turkish politics. David was well immersed into the expat community of Cappadocia. Since he was the expert on Turkey, his opinions were sought after by this close-knit community. Thus, many barbecue parties often at Viv& Will's beautiful compound in Ürgüp.

He was a person of so many great qualities. A great friend, an amazing intellectual, a deep expert on the late Ottoman and Turkish culture and affairs. But perhaps most importantly he was a man with a very generous soul.

God bless him! My wife Bahar and I will miss him greatly!

Prof. Ali Tekin
Former Member of Turkish Parliament
Condolences to your family.

May Prayers populate your path. I am a witness to the defenceless and difficult positions you defended for the sake of justice. I thank you for being in the life of my family and your comradely fellowship in causes.
Rest in peace David! Rise in glory! Missing your daily communications and gems of knowledge on Turkey.
God knows what surprise Norman Stone and John Duthie will have when they realise that you've joined the feast!
I met David first, briefly, at St John's College Oxford, where he graduated in 1968, a couple of years before I did. From 1970 until his death the paths of our lives crossed repeatedly in Turkey, the country which he probably came to know better than any other English person of his generation. Through his work as a journalist and writer he was respected and came to be consulted on every aspect of the country's history, politics and society, by Turks themselves as much as by outsiders. Two memories among dozens: one was sitting on the floor of a village house in Afyon province in the mid 1970s, holding an increasingly animated, tea-fuelled conversation about Turkish politics with three brothers, whose views did not quite align with David's analysis of Turkey's then multi-party divisions; the other from 2019, David, no less animated, engaging, inquisitive and formidably well informed over dinner by the Bosporus. He was generous, unforgettable and a critical friend, who will not soon be forgotten in either of the countries that he loved.

Stephen Mitchell
When I found myself in Ankara as a cub reporter in 1974 I discovered there were three Davids who had already made their mark there: David Tonge of the Financial Times (though he had moved to Athens), David Rogers of Reuters, and David Barchard (FT, Guardian and occasionally BBC).
My first freelance job there was one that David had done, writing for Pulse, summarising the Turkish daily press for diplomats, which required getting up at 4.45 every morning to fetch the first editions and precis the main stories under the guiding hand of Vedat Uras, a former Turkish diplomat. David's Turkish had been honed by teaching students in Zonguldak. Mine - not as good as his - came from a similar experience in Trabzon.
When I returned to London in 1975 I finally met David. Having been rather in awe of him and his accomplishments I was delighted to find such a generous spirit and wry sense of humour. His brain seemed to work at least twice as fast as mine, and he had many times the background knowledge. But that didn't prevent us from having lively discussions on Turkey (and some of his other interests).
One of those interests was The Archers, which amused me, having been an intermittent listener since childhood. He told me that all through his time in Turkey his mother sent him a weekly tape of the latest episodes.
In 1979 I moved to Chelsea, where David was my neighbour, lodging with the Reverend Piachaud, the local vicar, who christened my firstborn. David confided that he had never dared to tell Piachaud that he was a Catholic.
We didn't meet that frequently over the years, but it was always a pleasure to catch up, hear his very well-informed views on Turkey, and generally discuss the state of the world. When he got side-tracked into writing about building societies I felt enormous sympathy that he was a square peg being pushed into a round hole. Thank heavens he returned to things Mediterranean, which were his true passion.
David's most recent reporting on Turkey was amazing, well-informed, witty, as fair as one could possibly be writing about a dictatorship and a clash of religions. It was as though his Yorkshire home was the hub of an enormous intelligence corps – actually it was his brain. He was making a very important contribution to understanding Turkey, and maybe at some point welcoming it back into the fold of European nations. What a loss, just for that reason, but also the loss of a dear friend.
It's hard to believe that David is no longer in his cottage in Nun Monkton. The last time Harvey and I said goodbye to him, three years ago, he was standing outside the supermarket in the local village. We were heading back to Australia and he was heading down the aisles. I forgot to ask if he was still a fan of 'The Archers' an ancient BBC radio programme, with very little intellectual content! I'm grateful to David for sharing his extensive knowledge of the Bronte siblings, and for pointing out Thorp Green where Branwell and Anne Bronte had worked. We met in Turkey years ago and I always admired his native-speaker level Turkish. We'll both miss you. Cynthia
My wife Zeynep and I are deeply grieved with David's untimely passing away. He was a great personal friend and an incredible supporter of my country, Turkey. His vast knowledge and culture, as well as his humility always stood out. He was one of those special people whose quest for truth and knowledge never ended.

I worked with him over the years, during my duties in the Foreign Ministry, and while I was working at the the Prime Minister Office as the Director General of Press and Information. He visited us on many occasions in Ankara, as well as during my postings in Ireland, Sultanate of Oman, Australia and the Kingdom of Belgium. Being a staunch supporter of my country, he never missed a chance to courageously present his views domestically and at various international fora.

We loved and valued him. Our last phone talk was on the Christmas day. We shall miss our dear friend. Turkey has lost one of its great supporters.
N. Murat ERSAVCI, Ambassador (Ret).
This obituary will appear, I hope, in the Financial Times in the next day or two. It had to be written to fit a small space, and seeks to describe particularly those aspects of David's career which I think may be of greatest interest to FT readers. Therefore it is very far from doing justice to many of his qualities and achievements about which others have written eloquently. But let me say here how much my wife Elizabeth and I valued and loved David, and how bitterly we feel his premature loss.

David Barchard, who has died aged 73, was for four decades the indispensable guide and companion for any English-speaking journalist, scholar or diplomat who was visiting Turkey for the first time and wanted to get a real understanding of the country – its culture and history as well as its politics.

For many he went on to become a lifelong friend, who could be relied on to keep them informed with a stream of letters – later emails and WhatsApp messages – that were as entertaining as they were well-informed and incisive.

An astute and lively correspondent for the Guardian and then the Financial Times in the 1970s and 1980s, his strongest personal interests were in Byzantine history and in British policy towards the Ottoman empire in the late 19th century; but from 1988 he surprised friends and colleagues by working with great professionalism for five years as the FT's retail banking correspondent in London, then going on to join the PR firm Ludgate Communications.

Born in Wales to a military family in 1947, Barchard was a devout Catholic, educated by Jesuits at Stonyhurst College in Lancashire, where by a stroke of great luck he met a polymath teacher who taught him his first rudiments of Turkish. He went on to read history at St John's College, Oxford, and then to teach English in the coal-mining town of Zonguldak on Turkey's Black Sea coast. After a studentship at Nuffield College, he chose to carve out a journalistic career based on his knowledge of Turkey. His fluency in Turkish soon became proverbial.

The FT hired him as its correspondent in Turkey in 1983, in time for him to cover the first election held after the military coup of 1980. The army did not allow any former elected leaders to stand, but was caught out when Turgut Özal, a former World Bank official who had been in charge of economic policy, won a resounding victory. This inaugurated a period in which Özal, as prime minister, pushed through a series of liberalising economic reforms, while the generals kept firm control of security and there were many human rights violations. Barchard stood out among journalists, both Turkish and foreign, in that he supported the former no less strongly than he denounced the latter.

But he was keen to join the FT's full-time staff, and was told that, at least initially, that would mean covering a core financial topic in London. He cheerfully accepted this and, by good luck, his knowledge of all things Turkish came in useful for the FT's investigation of the Polly Peck scandal, involving a company which had been turned into a major international investment vehicle by the Turkish Cypriot businessman Asil Nadir – but collapsed when it transpired that he was draining its funds to finance his interests in Turkey and northern Cyprus. Barchard was able to secure one of the rare interviews given by Mr Nadir, and later wrote a book about the affair.

Gradually, however, it became clear that the FT was not in a hurry to give him a staff posting abroad, and he decided to go his own way – briefly in the PR business. Friends in the Turkish civil service persuaded him to return to Ankara in 1995, to advise then prime minister, Tansu Çiller, on public relations. He soon found neither she nor anyone else in the government took much interest in his advice. He resigned, took up a teaching post at Bilkent University, and later worked for various Turkish think tanks. He was a strong advocate for Turkish membership of the EU, and bitterly critical of those member states, notably France and Germany, who stalled Turkey's application. But he never shared the widespread enthusiasm in the West for the emerging leadership of Recep Tayyip Erdogan and his Justice and Development (AK) party, arguing – correctly as it turned out – that behind their much-touted liberalism lay an Islamist agenda which was bound sooner or later to take an authoritarian form.

Barchard had strong views, with which not everyone agreed, and could sometimes appear paranoid about the interest he believed he was attracting from Turkey's secret service, or jihadist militants. But those prepared to take him as they found him invariably found him friendly and helpful.

He spent much time in Cappadocia, whose landscape and Byzantine cave churches he deeply loved. But by the late 2010s he became worried about his personal security in Turkey, and retired to the Yorkshire village of Nun Monkton. He died on Christmas Day 2020, in York, after a fall while out walking on December 23.
Fond memories of a trip to Cappadocia where David shared his astonishing knowledge of the many rock churches in that region. David was the kindest of men. We called on a muslim family, sat and had tea with them. David was supporting them financially, quietly and privately, a discrete act of charity I've never forgotten. I'll remember him for his erudition, his sense of humour and his friendship. I don't think the FT ever understood what a gem it had in its ranks. I'll miss those missives from Nun Monkton David. I'm sad that you've gone.
We have known each other for over a decade, as I was one of his students in Ankara. He has been a great tutor and a great mentor to me and many other peers. We never lost contact. We would see each other every year with a cup of tea or coffee, which may now be among our memories. There is no one else I have known so far, with this great intellectual, knowledge on history; a very good interpreteur of current events and a very good highlighter of politics. A true fountain of kindness and a true good hearted soul. If I only knew that 2019 September on Tunali Hilmi Street would be the last time we'd see each other... He will be truly missed. I offer my deepest and sincerest condolences to his family and all beloved ones.
Thinking of you David as you are laid to rest today. So hard to believe that there'll be no more visits from you for tea (Yorkshire tea of course and Betty's cake brought to Ankara for us) and a chat. We and all our predecessors in the Residence who knew, admired and respected you will miss you. May your angels receive you into the heaven you believed in with such certainty.
Jane and Dominick
I benefitted from David's deep knowledge of all things Turkish for (now that I do the math) nearly four decades - sort of my own big brother as I made my own way up the ladder of Turkish studies and later journalism. We enjoyed each other's company, quarrelled, patched up our differences, shared anecdotes and made fun of each other's foibles. We hadn't been in touch for a while but curiously we were corresponding in his final few weeks about the death of a common friend in strange circumstances which David thought to investigate and which, journalist that he was, doggedly managed to uncover. There was a real depth of intellect and humanity about him, a sense of justice - and he could be as irritating as hell. The word "endearing" keeps popping into my head. I am tempted to say "child-like" as well, but I think that describes his inability to dissemble. "Honesty" is the more accurate attribute - at the same time he was such an entertaining source of mischievous tales.

He was sharp and he was erudite. And he wrote news copy faster than any person I ever met. He was prone to get over-excited about a possible news story - but that made him a good journalist and of course his great failing was not to suffer fools just a little bit more gladly. He was also incredibly loyal and I imagine had a deep sense of family which must make his sudden death all the more miserable for those with whom he grew up. I hope it is some compensation that the burden of that sadness is shared in part by those of us pleased to call him a friend.

My wife Caroline and our daughter Isobel whom he befriended share in sending our deepest sympathy and condolences,

Andrew Finkel
For years now we have depended on David for news of Turkey, including, for me, the rediscovery of friends now long gone. I had hoped, David, toleave you my Turkish library, but now you have got there first. I shall miss your regular bulletins. Allah rahatlik versin.
I have known David for such a long time that I cannot remember exactly when we first met.

He had first come across my father as a student in the late 1960's and struck up a lasting friendship with him, at the time when my father was Ambassador in London. After my father's retirement in 1979, David who by then was the FT correspondent in Ankara used to drop in for breakfast after having traveled over night from Ankara to Istanbul.

I continued to see him at regular intervals even after my father's death in 1998. He had an enormous and impressive store of knowledge about my country, knowledge that went far beyond my own. When I was based in Ankara and he living in Cappadocia, we used to meet for lunch in Ankara when he came over for a change of air from the provinces.

I last communicated with him a few weeks ago. He was writing a piece about Turkey and got in touch with me to check a fact. I never thought that it would be the last time.

His untimely passing is a great loss for his family and friends among whom I count myself but also for the understanding of Turkey in the UK, at a time when it is sorely needed.


Selim Kuneralp
Ambassador of Turkey (Rtd)
Met him in Oxford in 1974 and have been good friends ever since. I was always impressed with his care for and attachment to Turkey, the depth of his knowledge, the extensiveness of his network of friends and of news sources. What I enjoyed most was our dinners in Cappadocia. As he used to say at the end: "Excellent conversation." It was indeed, farewell my fried.
Madrid

David and I did not coincide when we were both working for the Financial Times years ago and then both took different paths. We met when Norman Stone invited me to Bilkent University in Ankara, where David was also teaching. David was a fund of knowledge for people like me struggling to understand the complexities of Turkey. It is a great shame that Stone was not able to persuade David to write the OUP history of Turkey. Rest in peace.
You will always be with us, my long time friend. I will miss you deeply. Rest in peace.
With the unexpected passing of David in York on Christmas Day, 2020, the Turkish people have lost an honest and true friend and the world a major authority on all aspects of this important nation.
My wife Cindy and I first met David when he arrived in Turkey in 1968 as a teacher in the coal mining city of Zonguldak on the Black Sea to work at Zonguldak College alongside myself. He had arrived after being educated at Stonyhurst College in Lancashire, then read History at St Johns College, Oxford and Nuffield College as a post-graduate.
Thriving in the surroundings of the ancient classical world where he could pursue his love of Classics, he soon updated his historical expertise to encompass Ottoman and modern Turkey.
David was a great friend of my wife and myself for over 50 years and we spent many happy gatherings from time to time in Yorkshire, Sydney, and Turkey. We will always treasure our discussions and debates about Turkey and the memories we shared. A true fount of knowledge and insight, especially regarding Turkey, I always valued his views throughout my own career of contact with Turkey. We miss him greatly now and will continue to do so.
David, may you rest in peace. Your pre-Christmas emails are still fresh on the computer screen and it is hard to believe there will be no more bulletins on Turkish affairs or on the scandals of Nun Monkton parish council, no more walks along the banks of the Ouse, no more rendezvous at the Reform Club. I first met you at St Mary's Hall in 1958, following you up to Stonyhurst College in 1960 and Oxford in 1966. You were at St John's College and I was at Merton, but we both read History and pursued the same advanced course, the Special Subject on St Augustine taught by Peter Brown at All Souls College. Your first interest in Turkey had already been sparked at Stonyhurst by our remarkable teacher Keith Anderson (later a celebrated musicologist) who equipped us with contacts and advice for our seven week trip to Trabzon by train and coach in the summer of 1967. After graduation you returned to the Black Sea coast to teach in Zonguldak and the die was cast. Though much of your working life was spent overseas you were wonderfully good at keeping in touch, whether through telephone calls, dense typewritten letters (single-space on flimsy) or emails, and you were always a welcoming host in Ankara, Cappadocia, Yorkshire, or at the Reform Club. How we shall miss you. Rest in peace.
David was known to me as 'my brother' spoken by Sue and Tish. My sincerest thoughts are with his sisters today. To all those who knew, worked with and encountered this talented man, I extend my warmest wishes and I feel the sadness with you all at this time. Keep asking questions David...
I have known David since 1973 when I was at St John's college when I was a second year medical student , our common college.
I feel honored and touched by his friendship , guidance and kindness , he was very close to my parents and I remember with joy Sunday lunches with his parents at Nun Monkton.
But his academic achievements , his knowledge of present Turkey and the Ottoman Empire , of course his major as a historian was Byzantine past , he used this infrastructure to analyze present politics of Turkey , Europe and was adamant to change the poor perception of Turkey by the west .
He was a giant and my best friend. We will miss you for ever .
We will never forget you, dearest David. RIP
Love from Ginger & Cihan
Donations, if desired, may be made to either:
St Mary's Church, Nun Monkton
or
The David Barchard Memorial Fund
The Anglo-Turkish Society notes with deep regret the untimely death of one of its Vice-Presidents, David Barchard, who did so much to further the cause of amicable relations between the United Kingdom and Turkey.
The Society will be very pleased to accept donations in order to set up a fund in his memory. The fund will be used for an annual essay prize in David Barchard's name, which will be administered by the Society. However, it would be equally pleased to administer any other donations, such as to found a scholarship, depending on the wishes of the donor.
Donations may be sent to:
The Anglo-Turkish Society
National Westminster Bank Ltd
PO Box 159, 332 High Holborn
London WC1V 7PS,
Sort Code: 60-40-04
Account No: 02734613
BIC: NWBK GB 2L
IBAN: GB45 NWBK 6040 0402 7346 13
Swift: NWBKGB2LXXX
Please put David Barchard Memorial Fund in the reference line of any donation.
The Anglo-Turkish Society is a UK registered Charity, number 278727.
Any inquiries concerning the David Barchard Memorial Fund may be addressed to David Shankland, Chairman.
Anglo-Turkish Society, David.Shankland@therai.org.uk
The web-site of the society may be found here: Anglo Turkish Society: Welcome.
Opens in a new window / tab