Service in Loving Memory of
Barbara Parker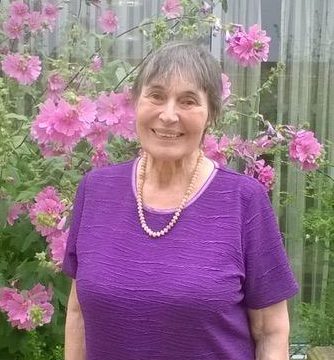 The Chapel, Rudding Park – Harrogate
Thursday 3rd June at 10:30am
5 entries.
I knew Barbara as a warm and accepting person whose deepest motivations in life showed themselves to be devotion to her Saviour , Jesus Christ and then to her family. Though age and infirmity obscured these passions well into her illness, they sometimes came to the surface and one could see her face enliven when mention was made of what Jesus had done on for her.
" "E'en down to old age all My people shall prove
My sovereign, eternal, unchangeable love;
And then, when grey hairs shall their temples adorn,
Like lambs they shall still in My bosom be borne."
from the hymn 'How firm a foundation ye saints of the Lord'.
I have many warm and fond memories of my friend Barbara, one in particular was when we took in a "stray" dog that we thought had been abandoned outside the coop in the village. we fed and watered it, took it for walks, only to discover it's owner was desperately trying to find who had taken it whilst
they were doing their shopping !
Being very close we supported each other through the good and bad times, she was very thoughtful and I was truly grateful when at my mums funeral she went to our house at west ave and prepared the funeral refreshments for everyone.
Despite both of us suffering from ill health in our later years and not being able to see each other ,she was always in my thoughts.
True friendships are to be treasured and are never forgotten , love and thanks Florence xxx
Barbara was an incredible Granny to my brother and I, and a wonderful mother to Michael and my mum. I won't forget the trips to Baildon and the delicious ginger biscuits she used to make for us to enjoy. A truly touching service, sending my love to all involved. Rest in peace Granny. X
I have such fond memories of Aunty Barbara particularly from my childhood. I remember going to their house in Baildon many times, terrorising their cats and enjoying Barbara's fabulous cooking! Her big welcoming hugs and quick witted, vibrant personality. Sending all our love xxx
My "Aunty" Barbara was such a fun and loving person, I have the most happy memories from my early childhood, through my teens and into adulthood.
She made me feel part of the family, especially when I stayed with them at Moorfield House for a few months in my late teens whilst my mum and dad moved back to Baildon from Derby. My job transfer came through before the house sale and so I lodged for a while.
In our younger days Rachel and I had many sleepovers with lots of midnight feasts that were supposed to be a secret but strangely there were always lots of "goodies" available to eat!
Meal times around the kitchen table were a time to chat about our day and enjoy delicious food ( no making chip butties though when Uncle Geoff was there!)
Fond memories Aunty Barbara , thankyou for all that you did ,with all my love Liz xxxxxxxxx
The Family would like any gifts to go to Myanmar Children's Home care of Berean Baptist Church.
Please designate as Myanmar. Sort 30-90-91 Acct. 65673860