in Celebration and in Thanksgiving for the Life of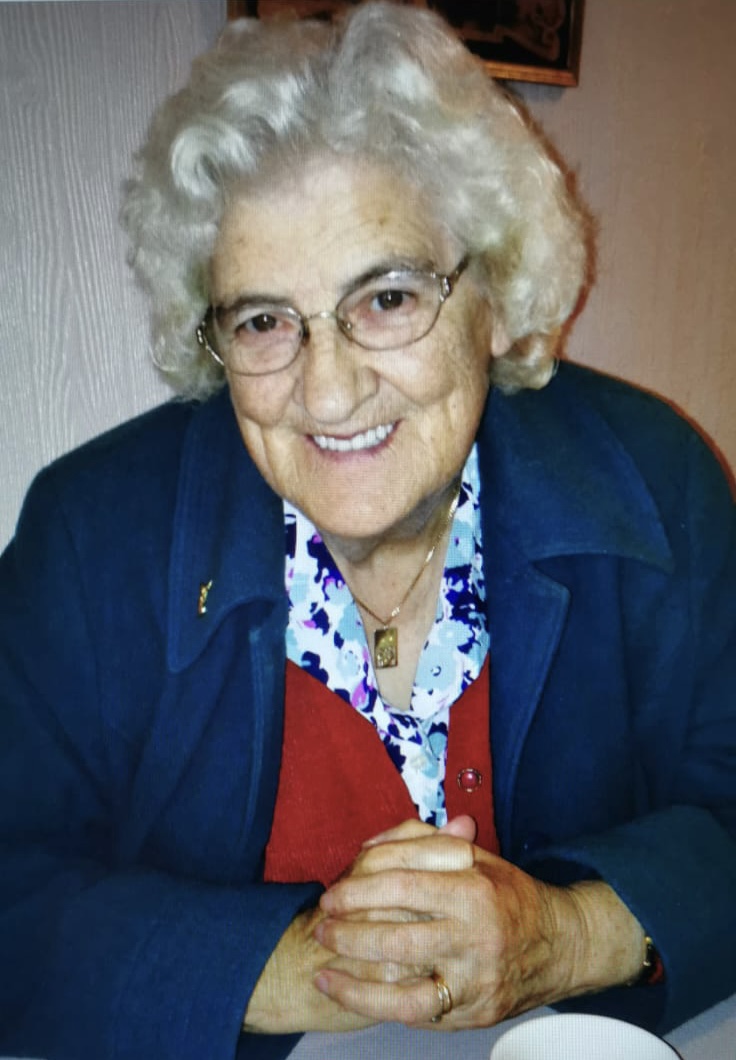 St. Urbans Roman Catholic Church, Leeds
Wednesday 24th March at 11:00am
22 entries.
I remember a young Aunt Agnes from my early childhood, our bread & jam days. One memory involves this thing she & my mother used to do – they'd both stand straight, back to back & link arms at either side, then take it in turns to bend & try & lift the other off the floor, the one who lifted the other's feet the highest was the winner. Not sure who won but it involved a lot of banging, clattering & laughing. She was always kind to us Roddies with a great sense of humour, often tongue in cheek humour, always had this strong 'Mullen-ness' character about her. May she rest in peace.
My 1st memory of you Agnes was I was scared to meet you because of our age difference, but you made me feel part of your family straight away,I loved coming to see you and your lovely family who I got on with from the start, we use to go out on shopping trips, especially to dunns in Bradford,we loved going there, you always made me feel welcome even when we separated, will never forget what a wonderful person you was Agnes, reunited with your mum and brothers and sisters, 💖💔💖
My fondest memories of aunt Agnes started when I was a kid I was the poshest one going to school every Xmas me and Yvonne got all our school pencils with our names on them school kids were so jealous we used to tell them we had a rich auntie in England got us by for a few yrs always will have fond memories of her and you guy's, we are a mad lot, thinking of you all today stay strong and look after each other xx
I remember as a child when she came to currower. She was so loving and kind. She used to fix my hair up in a bun. Do you remember Carmel? You and Elaine would be with her. She would come over every 2nd year. X
I remember one time I would be nine or ten I was supposed to wash the dishes but hadn't done them and everyone was going for a drive can't remember where but mum said I couldn't go as the dishes weren't washed of course the tears flowed and Aunt Agnes got out of the car and came and did the dishes with me and I got to go. I have often thought about this through out the years I could never remember where we went but it was Aunt Agnes's kindness that stayed with me.
I loved our Monday outings to market days. Agnes and my Dad used to fight over who would by me something in the shops. Agnes got me a lovely flat cap that I still have. All 3 of us had great appetites in the cafe's. We would order the biggest breakfast available and couldn't believe what she ate.

I will always think of her when I see murder she wrote. She used to always get the killer right until I clicked on that she had seen all the episodes before.

My mums family absolutely adored her. They would always say how kind and loving she was to them. They have lots of stories to tell. They still say she was the nicest lady they have ever met. They are so right.

She was always so grateful for the tiniest of things. We have all learnt so much from her xx
My best memories are similar to Noreens your house always full of young ones the Griffins next door Sabina lived with you awhile I think. Your mam making us dinner she must of being so busy and she still had for us
I remember taking Daniel too visit when he was a baby auntie Agnes told him that his eyes are as blue as the sky as young as he was he loved it and for a long while
I remember so vividly as a young mum... Scarlett was 4 and Shannon was 2... We were visiting auntie Agnes or Auntie Biscuits as she was fondly known as to my kids... the tea and biscuits were put on the table... always a welcome and a tuck in... Shannon took the lid.. went behind the sofa and hit auntie Agnes on the head!! To say I was embarrassed was an understatement. All Agnes said was Oh me poor head and didn't make a fuss! I wanted a hole to swallow me up!!
I would go to auntie Agnes on the pretext of hanging out with Elaine. Agnes was always the best fun, she loved a good laugh and she made the best no nonsense dinners. You were never forwarned that if you let your arm hang over the side of the sofa, Smokey the cat would attack it.....sore, but so funny.
Well Aunt Agnes made a lot of good Dinners for me, the craic we used to have on a Sunday after noon when we would all be their togather Johnny, Tony champ Marty Sid and Doug and all the girls and their was never to many for Agnes god bless her, may she Rip,
My fondest memories of aunt Agnes started when I was a kid I was the poshest one going to school 😂😂 every Xmas me and Yvonne got all our school pencils with our names on them school kids were so jealous we used to tell them we had a rich auntie in England got us by for a few yrs 🥰🥰 always will have fond memories of her and you guy's, we are a mad lot, thinking of you all today stay strong and look after each other xxxx🥰🥰
Grandma, no words can describe how much I'm going to miss you!! You really were my best friend!! You were someone I was always comfortable coming to with any problems I had. I have so many beautiful memories that I will treasure forever! One that will always stay in my mind was the day I got my exam results. I was so so nervous and when I picked them up and found out I had passed you were the first person I told. I walked straight to your house from Notre Dame College, got to your garden gate, spotted you in the kitchen and I just burst out crying. You, of course came running out to hug me thinking something terrible had happened (haha) but when I told you the good news you hugged me so tight and started to cry also!!! Thank you just for being you!! Sleep tight my Angel 💕💕
What a beautiful send of for such a wonderful woman ❤️
Agnes,you were such a treasure. The nicest lady I have ever met. I'm so glad we got to make some amazing memories together that I will treasure forever. You were my support when I lost my father and you was always there for a cuddle. I love and miss you so much. RIP. Love you always and forever xx
Rest in Peace Agnes. You were such a special loving lady. I will never forget the good memories we had. Growing up having dinner at Auntie Anns on a Thursday, days out and you would always treat me like your own. You will be missed, Good night God bless. Xx
We watch the funeral mass for yer mum Agnes R I P it was a lovely mass you gave a lovely Eulogy Mickey and Peggy your singing was beautiful !
Rest in Peace Auntie Agnes. I stayed with you in my teenage years for two years. You always treat me as one of your own. As then and as you've been throughout my life you've been a warm, caring presence with a wicked sense of humour. Rest in peace. You'll be forever remembered.
Agnes
You were such a lovely kind lady. Your family done you so proud today.
RIP
Grandma you gave me memories I will keep with me forever. You really were the most loving Grandma to all your Grandchildren and Great Grandchildren. You always made every single one of us feel so special to you and you celebrated our achievements as if they were your own. I have so many memories of when myself, Katherine and Rionach had sleepovers with you in the school holidays and we would have you pulling your hair out but at the end of the day when our Mums would pick us up you would always tell them we were angels haha. Love you always and forever Grandma, I will never forget you xxxxxxxx
My Agnes, you have been my best friend for many many years, Over the last few years we haven't seen each other but I will forever remember our day trips to Otley, I will miss talking to you for hours on the phone, i miss meeting you at church on a Sunday morning with Ciara.
I never thought I would be watching your funeral over a video link, but I wouldn't miss it for the the world.
Until we meet again my Aggie sleep tight and have a blast up there.
Lots of love Maureen xxx
To a very special mam,
My special memories are, Christmas when we was children,mam saved all year to get us what what we wanted. Mam use to buy them weeks before and lock them in the cupboard in uncles room but as soon as she left the house we went to find the key and use to play with all the new toys.
Way before Christmas. we would never tell her so it wouldnt spoil it for her.
In the early hours of Saturday morning I lost my best friend. There will never be enough words to describe how I'm feeling right now But what I do know is that my Grandma loved me in a abundance for 24 years. She gave me love, kindness, laughs, cuddles, kisses, hope and motivation - but above all, she gave me irreplaceable memories that will last me my lifetime.

So to my best friend and my heart - I love you endlessly, and I know you love me right back.